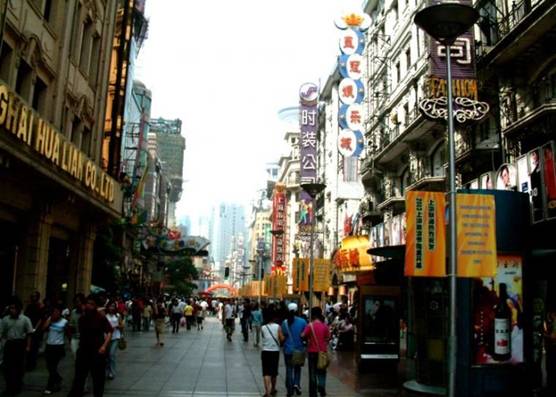 Shanghai is hailed as the "Shopping Paradise" and "Oriental Paris". So if you come to Shanghai, shopping should not be missed any more than its other charming attractions. Providing the very best of shopping has become an indispensable part of Shanghai's tourism industry.
Shopping areas in Shanghai are clearly divided into "Four Streets and Four Cities".
Nanjing Road, one of the four streets, enjoys the reputation of No.1 Commercial Street in China. Developed from the beginning of the 20th century, Nanjing Road has clusters of a wide variety of shops from those that are centuries old, to special ones and modern malls. In these modern times, Nanjing Road is not out done by its numerous competitors but becomes more and more prosperous.
Huaihai Road, no less famous than Nanjing Road, is celebrated for its elegance. It features top-end designer brands from all over the world.
North Sichuan Road offers good inexpensive merchandise and is always the first choice of ordinary people.
Food and tourism are well provided for on Middle Tibet Road, one of the Four Streets.
Parkson Shopping Center on the Huaihai Road is worth visiting. Here you will find reasonable prices and many special offers in the form of discounts and other promotions. Even the brand-name clothing is reasonably priced here.
Maison Mode, located at No.1312, Huaihai Road, claims to be the aristocrat on this street. You will find the leading designer brands such as Gucci, Ferragamo, Hugo Boss, Bally, Kenzo, etc. here. It is no exaggeration to say that the reputation of Huaihai Road is enhanced by the presence of Maison Mode.
Yuyuan Shopping City, Xujiahui Shopping City, New Shanghai Shopping City and Jiali Sleepless City are the bustling "Four Cities" in Shanghai. Yuyuan Shopping City is the venue for specialist Chinese goods ranging from small articles, local crafts and the like to antiques, jade wares and gold and silver jewelry. The newly-established shopping and entertainment plaza, Xujiahui consists of large stores where you can obtain both costly and middle-range priced goods in abundance. New Shanghai Shopping City is on the grand scale and offers the best facilities and amenities. Located in the middle of Pudong Lujiazui Finance and Trade Zone, it is surrounded by a variety of retail outlets. Like a bright pearl on the landscape, Jiali Sleepless City facing Shanghai Railway Station, and on the Subway line 1, is a bustling commercial area.
Besides the famous "Four Streets and Four Cities", some other streets and roads are worthy of a visit.
If you just intend to buy small articles and inexpensive clothes, Hong Kong Famous Shops Street and Dimei Shopping Center beneath People's Square and Xiangyang Road Market will whet your appetite. In Dimei Shopping Center, clothes are competitively priced and fashionable, but you will seldom find the top brands here. With the alternation of four seasons the small shops here, sell clothes in vogue which cater for the needs of young people. You can bargain at ease.
Xiangyang Road Market.
This famous market used to be on the former Huating Road Clothes Street, which was the most renowned clothes street in Shanghai before relocating to its present place. Since 1980s, a number of the shops selling clothes and small ornaments led Shanghai's fashion trend. Foreigners carrying large travel bags once formed the scene on the street. In November 2000, the former Clothes shops on Huating Road were moved to Xiangyang Road Market. A notable feature here is the fact that you can find expensive goods at very low prices! But be warned that so-called brand names are often fakes but with care you can find items of a reasonable quality.

Getting there: Subway line 1, Public Bus No. 24, 42, 45, 94, 96, 128
The distinguishing feature in North Shaanxi Road is its shoes. Not only abundant varieties and original styles, the prices are reasonable and moderate. If you admire Chinese-style clothes, some shops selling them are on Maoming Road, Changle Road will meet your requirements. Generally clothes will be tailored to ensure a good fit.
Fuzhou Road earned its fame as "Culture Street" a century ago. The outlets here deal mainly in manner of cultural items, ranging from books, music and art... It is now the fashion for Shanghai people to wander along Fuzhou Road after work to browse through all sorts of books and magazines in the stores along the road.
Shanghai Music Bookstore: No. 365, Middle Tibet Road Tel: 63223213
Shanghai Ancient Books Store: No. 424, Fuzhou Road Tel: 63223453
Shanghai Foreign Languages Bookstore: No. 390, Fuzhou Road Tel: 63223200
Shanghai Books City: No. 401, Fuzhou Road Tel: 63200651
Shanghai Fine Arts Articles Shop: No. 402, Fuzhou Road Tel: 63528706
Dongtai Road Antique Market is a market mainly dealing with the porcelains, jade wares, bronze wares, wooden wares, calligraphy and paintings and embroidery utensils. Lots of tourists from home and aboard come to this famous market.

Getting there: Public bus No. 17, 18, 23, 864
Of course local food specialties should be taken into account. Houyin Fish (Noodle Fish), origin in Qingpu and Chongming counties, the Houyin Fish is scrumptious and delicious. Canned Anchovy, one of the specialties of Shanghai, is fried and exported overseas and is highly praised. Other local specialties like Pudong Chicken, Shanghai Juicy Peach, and Juicy Pear and so on will make your mouth water.
Local products like, Gu Embroidery , also called Luxiang Yuan Embroidery, from the Ming Dynasty (1368-1644), is now used in producing clothes, ornaments and bedding. Tapestry is divided into two types, for appreciation and daily use. It is popular among visitors because of various colors, vivid figures and visual design. A scroll of tapestry depicting the Great Wall of China is exhibited in the United Nations building. Jade sculpture, wood sculpture, and stone sculpture feature Shanghai's tourism industry with its exquisite and delicate carvings. Shanghai was one of the original producers and exporters of Chinese silk and silk produced here remains unique owing to its age old traditions as well as new means of production and design.
Tourist Souvenirs Shopping Building: No. 558, East Nanjing Road
As for the purchase of household appliances, big home appliance markets, like Gome, Guotong and Quyang Home Appliance City are highly recommended. Household appliances here have low prices and good quality.
Gome in Changning Shopping Center: No. 986, Changning Road
For everyday requirements, supermarkets offer a wide range of goods. You will find Carrefour, Metro, RT Mart, Hypermarkets & Shopping malls, Lotus and Hualian, etc. Most of them are located near to the transportation hubs and residential areas. Furthermore, up to 100 supermarket chains and 24-hour-open Lawson Convenience Store are established for your convenience.

Editor: canton fair