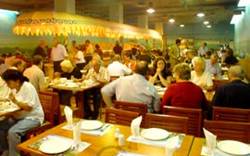 As the locals in Shanghai put it, "Blessed are those born in Shanghai as they have the most chances to taste delicious food.' Shanghai Cuisine is not one of the Eight Major Cuisines of China but is a choice blend of the most appealing aspects of these other national styles of food while being always ready to adopt the best aspects of foreign cuisine and make them its own. Therefore, it may be safely said that you can enjoy all the best food from home and abroad when in Shanghai.
Ben Bang Cuisine
. This literally means 'local' and makes great use of fresh fish. Ben Bang differs from Canton cuisine which also makes use of fresh sea food in as much as the Shanghai dish has a strong flavor and the bright color of soya bean sauce.
Xiang You Shan Hu
(this dish is so named as it crackles when the hot oil is poured onto eel.) and
Ba Bao La Jiang
(Eight Auspicious Pepper Sauce) are the two most typical dishes. The Eight Auspicious Pepper Sauce is not a dressing but a dish comprising shrimp, peanuts, pork, bamboo shoot, chicken, tripe, and sauce. This dish gives us some idea of how delicate Shanghai cuisine can be.

Where to sample these dishes:
1.Shanghai Classical Hotel ( No.242, Fuyou Road, Shanghai)
2.De Xing Guan ( No.29 Dongmen Road)
Local snacks should not be missed.
Nanxiang Steamed Stuffed Buns
feature the typical Ben Bang flavor. This snack with nearly 100 years' history is famous for its thin wrap, heavy flavor, and tender meat. What's more, it varies with the season: bamboo shoot for spring, shrimp for summer, crab for autumn, etc. The translucent buns are as small as water chestnuts. These are tips for tasting this snack. Bite carefully, sip the soup and dip into Zhenjiang vinegar. "Wow, yummy!" is then an understandable reaction. However, if you are too hasty, you may not only be hurt by the hot bun, but you will also destroy your table manners by spilling the soup onto others! Something hard to believe is the stuffing is one time larger than the wrap, miraculous, isn't it? The film Leaving me Loving You featuring Leon Lai, the Hong Kong Pop Star and Faye Wong, the Hong Kong Pop Diva, gave this snack the opportunity to become known to the audience.

You can taste this snack at:
No.238, Guyiyuan Road, Nanxiang Town, Jiading District, Shanghai
Xie Ke Huang Pan Cake
looks like boiled crab shell, therefore the name "Xie Ke Huang". This pancake is crispy on the outside and delicious in the inside. The stuffing is made from green onion, pork, and sugar and bean paste.

The recommended place to try this is:
1.Wuyuan Bakery
No.1530, Beijing West Road, Jing'an District
No. 255, Yanping Road, Jing'an District
Fried Stuffed Buns
are snacks indigenous to Shanghai. Golden in color, a thin wrap, crispy cover, delicious meat, and this snack tastes best when served hot.

It can be tasted at:
1. Fengyu Eatery
No. 48, Guangling Er Road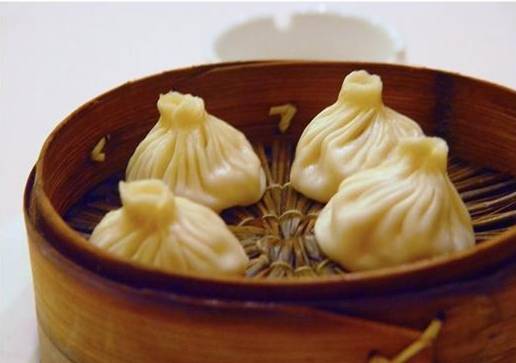 There are two eateries that are famous for
steak with rice cake
. The dishes offered by them are prepared in completely different ways therefore each has its own unique taste. It is hard to tell which is better. So better to taste both!

The Places to go are:
1.Xiao Chang Zhou ( Sichuan Middle Road )
2.Xiandelai Steak Rice Cake ( No. 12 Yunnan South Road )
3.Shanghai Xiandelai Steak Rice Cake No. Branch ( No.10 Xinzha Road Huangpu District, Shanghai )
Vegetable stuffed buns, as the name suggests, are without meat but the flavor is not harmed at all. For veggies, these buns with vegetables, mushroom, bamboo shoots, dried bean curd, etc are a good choice.
Where to taste:
Chunfeng Songyue Vegetable Dish Restaurant
Address: No.23, Bailing Road, Cheng Huang Miao
In addition to the above snacks; Gaoqiao muffin, glutinous rice dumplings, pear paste candy, five-spiced beans, etc are all worth trying. For dinner, cold noodles are popular in summer. Yangchun noodles, won ton, etc are what the locals like to eat. Don't look lightly on this won ton! There is something extraordinary behind it. In particular, won ton is divided into big won ton and small won ton. The big one is stuffed with shepherd's purse and pork while the small one is stuffed with meat alone. For half kilo, there are 50 wraps for big one but 70 wraps for small one. So you can imagine how thin the wrap is! The soup is also a key element. Generally, broth is for the big won ton and chicken soup for the small won ton.
Yunnan South Road, Huanghe Road and Zhapu Road, clustered with restaurants and eateries, can satisfy your one-stop tasting.
If you do not want a monotonous menu and like to try different Chinese cuisine, Shanghai will not disappoint you. For every major cuisine, you can find the most authentic restaurant. The following are only a few of the multifarious local restaurants for your reference.
Beijing Cuisine
Yan Yun Lou
Address: Fl. 8th and 9th, No.699 Nanjing East Road
Roasted ducks here are as famous as those of Quanjude in Beijing but they are lean instead of greasy. And the price is very reasonable!
Cantonese Cuisine
Sunya Cantonese Restaurant
Address: No.719 Nanjing East Road
The roast suckling pig is highly recommended. This is the most typical Cantonese dish.
Hunan Cuisine
Shanghai Dong Ting Chun Hunan Cuisine Restaurant
No.58, Yueyang Road, Xuhui District
Sichuan Cuisine
Duo Li Si Chuan Cuisine Restaurant has branches in almost every district of Shanghai.
Yangzhou Cuisine
Yangzhou Restaurant
Crab powder tofu, crab powder steamed stuffed bun and meatball are the trump cards of this restaurant.
Address: No.72, Nanjing West Road
If you are on a tight timetable, fast food chain restaurants are to be found all over Shanghai. These offer quality food at very reasonable prices. For Chinese fast food, you can choose from Sun Ya Da Bao (Big Steamed Stuffed Bun), Yong He Dou Jiang (Soy Bean Milk), Feng Yu Sheng Jian (Fried Stuffed Bun), Yu Yue Ren Jia, Jin Shi Fu Won Ton, Da Niang Dumpling, Zhen Ding Chicken, and more. Western fast food outlets like KFC and McDonald's well established in Shanghai while Pizza Hut is rather les popular due to its higher prices, never-the-less it is as you would expect to find elsewhere in the world.
Sichuan Cuisine and Cantonese Cuisine were more fashionable here years ago but the former is too hot and does not appeal to the local's taste while the latter is considered expensive; consequently Benbang Dishes are regaining popularity again. Since you are in Shanghai, why not do as the local does? Try the snacks and Benbang that way you can enjoy your time in Shanghai to the full!