A man stabbed five policemen to death and wounded five others at a police station in Shanghai's Zhabei district Tuesday.

The 28-year-old suspect, surnamed Yang, first stabbed a security guard to death at the police station around 9:40 am, a Shanghai public security bureau press release said.




The 28-year-old suspect


He then started a fire at the gate before barging into the police station and stabbing nine policemen, four of who died of their injuries, police said.

The whole incident happened so suddenly that it took the shocked colleagues some time to recover and overpower the attacker, who has been detained.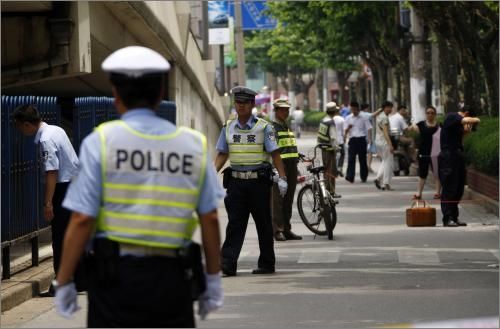 Police outside the Shanghai's Zhabei district Public Security Bureau after the tragedy occured.


It was not clear how Yang, an unemployed Beijing resident, managed to fatally attack so many policemen inside a police station and why he was not detained immediately after he started the fire.

The five injured, one of whose condition is serious, have been admitted to three hospitals. A witness, surnamed Yi, said some of the policemen were slashed in the chest and face.

"When the injured were carried into the emergency room, their bodies were soaked with blood and their faces were pale," said a witness surnamed Jia at Shanghai Changzheng Hospital.

"The scene was too horrible to watch," he said.

One policemen named Fang Fuxin, 47, died before reaching the hospital and Zhang Jianping, 48, died after two hours of treatment.

Both died after losing too much blood from their punctured lungs, according to doctors with the hospital.

Later, Yang told police that he went on the killing spree because he was angry with police for interrogating him last October over bicycle thefts.

Less than two months ago, a bus explosion killed three persons and injured 12 in the country's financial hub, which is also one of the venues of the Olympic Games.

The killings, rare in the country, come amid government efforts to beef up security before the Beijing Olympic Games.


Editor: canton fair